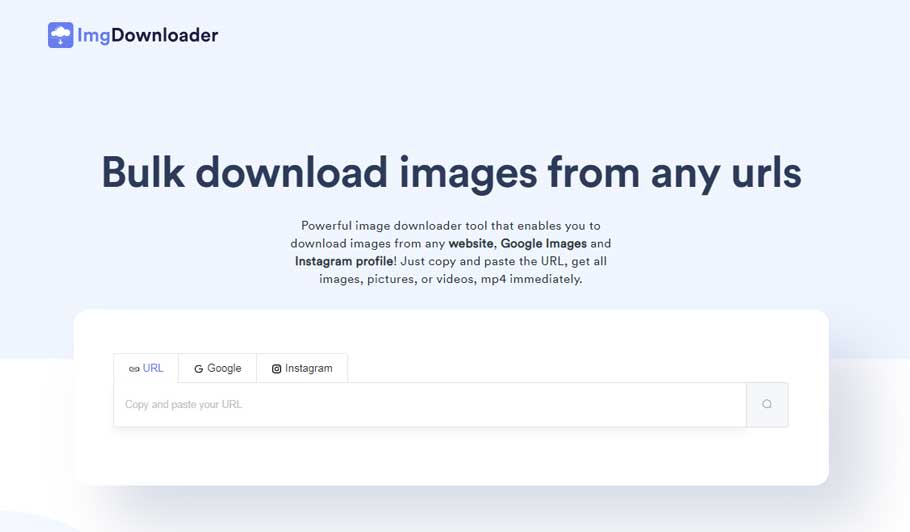 Why Do We Need To Download Image From Instagram?
Several people use Instagram for different purposes. People may want to download images from Instagram for many probable reasons. Some of them include:
1. For safe storage
2. For printing
3. For sharing on other platforms
4. Surprise your friends
5. Keep an extra copy, just in case
6. For your project work
7. Create slideshows
8. Use them offline
9. To save time and for free unlimited service
Many more similar needs can be there to download an image from Instagram pages, relating to own or someone else. Similarly, you may also like to download mp4 from Instagram. But, what is the best way to do it quickly?
Overview of Imgdownloader
Imgdownloader is a free online Instagram image downloader tool. Apart from downloading bulk images from Google Image Search or websites, it also facilitates the quick download of pictures and videos from the Instagram platform.
You can download the desired photo or video by only pasting its URL link. There is no specific software to be downloaded or settings to be changed. You need not learn complicated software to download the media. You can use Imgdownloader in an unlimited manner, anytime. You can download mp4 from Instagram or download an image from Instagram quickly using this tool.
How Imgdownloader Works And Downloads Images from Instagram
The process to use Imgdownloader is straightforward. The server downloads the image from Instagram based on the URL provided by you.
Step 1. Get the URL
First of all, you need the URL of the image. Open the particular Instagram photo that you want to download. Click on three small dots on the top right of the selected photo. Click the Copy Link button. It will copy the Instagram photo link to the clipboard.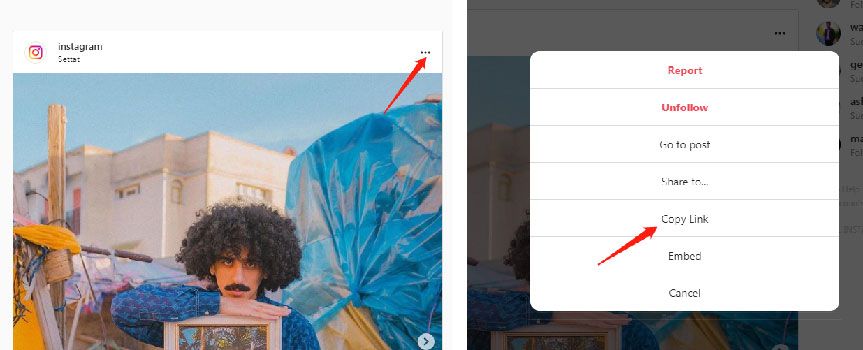 Step 2. Paste the URL
Now open the Imgdownloader website and click the third tab, "Instagram" at the beginning of the page and paste the URL into the input bar.
Step 3. Search and Download
Now click the search button on the right. You will see a message "Requesting; please wait for one minute." After a while, you will see a thumbnail of your image with a download button. Click download and save your file.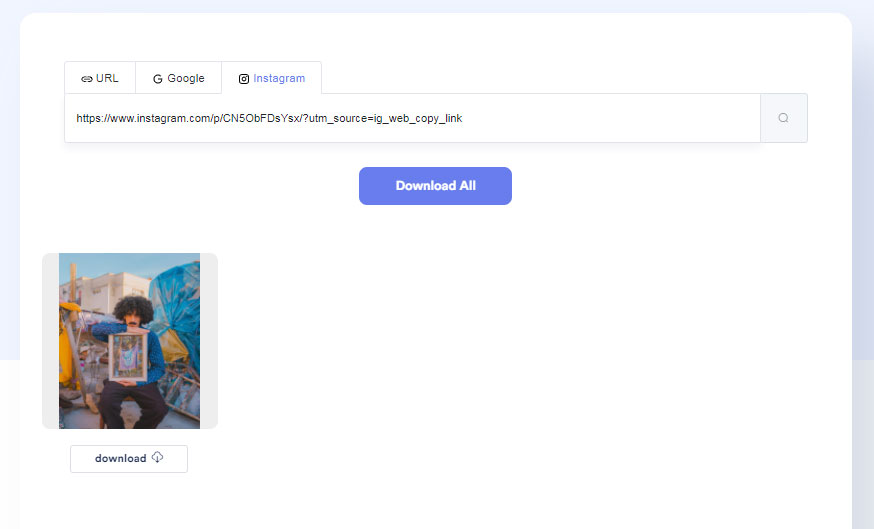 It is the same for the mp4 videos from Instagram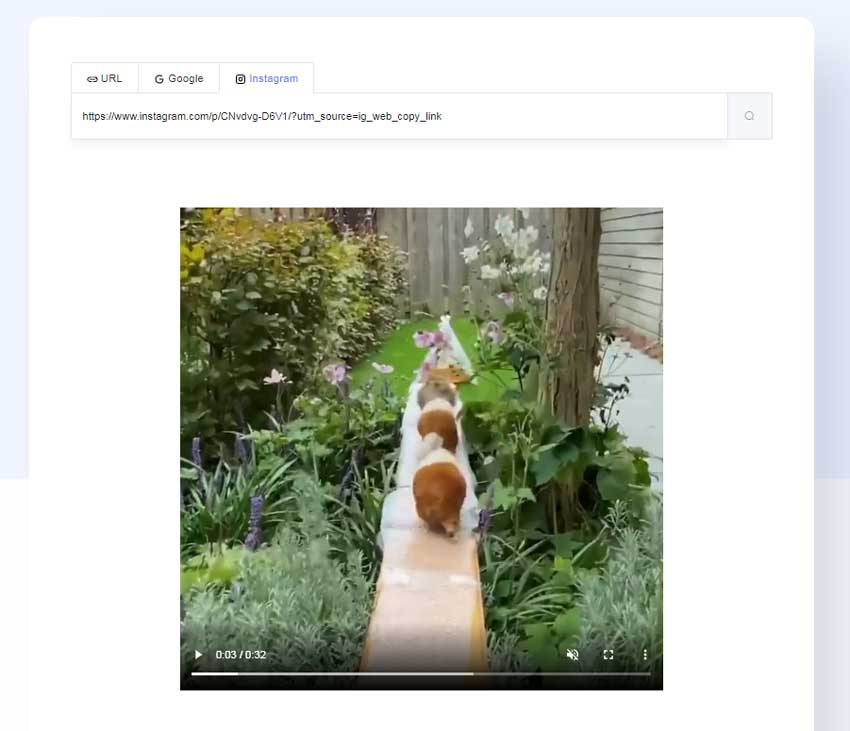 Step 4. Troubleshooting
If there are any technical issues in downloading, it will display the message that "No images found. You can send it to support@imgdownloader.com. We will check it for you."
Benefits Of Using Imgdownloader
1. Quick and Free. Imgdownloader is free of cost for unlimited use to download an image from Instagram. It hardly takes any time to download your photo or video. It is free forever.
2. No Registration. You do not need to create any user account or register before using this tool. You can start immediately. You don't have to log in to any account. Just download.
3. User-Friendly. The tool has an intuitive and user-friendly interface. It has a downloading process as simple as possible. It automatically downloads the best HD quality pictures from Instagram.
4. Safe. Imgdownloader is entirely safe to use. Unlike some other Instagram image downloader tools, it does not store your downloaded images on its servers.
5. Customized Service. If you cannot somehow download a picture for any technical reason, You can contact the Imgdownloader customer support by email. It is exceptional customer service as they do not charge anything and still deliver the best you deserve.
6. Download Videos. In addition to images, you can also download mp4 from Instagram using this fantastic tool.
7. Additional Bulk Download Functions. Apart from Instagram download functionality, you can use the same tool for bulk image downloads from any website or Google image search gallery.
Other Tools Overview
InstagramPhotoDownload Tool
https://instagramphotodownload.com/
InstagramPhotoDownload is an Instagram image downloader tool. It is a one-click tool to save your favorite Instagram image. You can also download mp4 from Instagram using this tool by providing the link URL.
This tool does not lower the quality of photos or videos while downloading. You can also download reels and Igtv. Moreover, you can use this Instagram image downloader tool on PC, tablets, Android phones, Apple phones, iPad, etc. It is open to use for free on any device. The site is safe to use as it does not store any personal information and use high-security protocols for downloading.
InstaOffline Tool
This Instagram image downloader tool allows you to download Instagram photos online and save them for offline use later, as its name implies. There is just no limit on the number of downloads. The site is easy to use as it requires no installation or additional software. It works on virtually any device.
It protects you from online threats like malware and viruses due to its inbuilt high-security protocols by encrypting and securing your connection and protecting your privacy while browsing. It is free and does not ask for money, directly or indirectly.
DownloadGram Too
This website has a plain interface as an Instagram image downloader tool. It simply provides an input bar below its brand name. There is a minimalist download button to get things started. Things can not be simpler than that. There is a scrolling image of a beautiful lady in the background, reminding you of the web page's simplicity and calm nature.
Please don't underestimate the power of this tool due to its simplicity. Like other Instagram image downloader tools, you can download an image from Instagram here. You can also download mp4 from Instagram. You can also download Igtv and Reel. Although this tool does not tell you how to use it, the interface is intuitive and user-friendly. After all, this is what a single-click interface is!
Conclusion
There are many Instagram image downloader tools out there, and Imgdownloader seems to be the best one due to its intuitive interface. It offers exceptional customer support that no other site does. The best part is that this tool is free to use, safe and quick, without asking you to register. Unlike other Instagram tools, it has secure encryption and fair security policies.
Remember, although it is not illegal to download from Instagram, you need to take care of copyright laws and not use the downloaded photos and video without due permission.